Oceans & Earth
"Oceans and Earth" – Outback Loop   8 days and 7 nights.
Adelaide, Beltana Station, Coober Pedy, Wilkatana Station and Mundoo Island Station
Explore the vast, rugged, hostile and very beautiful South Australian outback; the serene coastline and islands around Goolwa, teaming with birdlife, white beaches and blue water.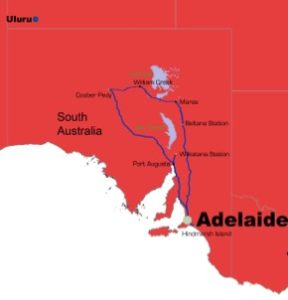 Day 1: (Overnight Beltana Station)
Adelaide Airport pickup, drive to Beltana Station north of the Flinders Rangers via the beautiful Clare Valley and stunningly beautiful Flinders Ranges. Beltana Station is approximately 530 km from Adelaide.
Drive time – approximately 6 hours (excluding stops)
Beltana Station is a full working sheep and cattle station (also running camels, alpacas and pigs) that offers accommodation in converted shearers quarters and a range of activities. In the 1800s Beltana Station was one of the most successful breeding studs and largest depot for camels in Australia.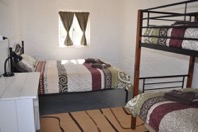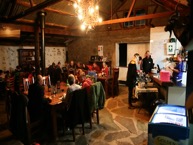 Some of the first camels imported to South Australia went to Beltana Station.   At present the station is 1876 sq kms in area.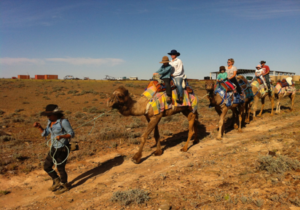 Day 2: (Overnight Beltana Station)
One full day will be spent on Beltana Station. Activities include a tour of the station, a scenic tour of areas of natural beauty as well as a sunset camel ride. There will be an option for those who would like to (hunt) have a shot at any of the feral animals including kangaroos, goats, rabbits, foxes or (feral) cats. There may also be an opportunity for anyone to participate in any of the station chores!
Day 3: (Overnight Coober Pedy)
The Oodnadatta Track (which is a dirt road) begins in Marree (150km north of Beltana Station), we will travel on it for approximately 210kms before arriving at the hamlet of William Creek which is surrounded by the world's largest cattle station which is almost a staggering 24,000 sq km!   We also pass the southern shores of Lake Eyre (also known as Kati Thanda), and try to comprehend the vastness of this lowest point in Australia. Lake Eyre is Australia's largest lake and lowest point. The lake fills rarely, though when it does, it covers an area of more than 9500 sq kms.
From William Creek it's another 170 km to Coober Pedy, travelling through some of the most isolated country in the world. Before arriving in Coober Pedy, we also pass through the dingo fence, which keeps the dingoes on one side of the fence so they don't kill sheep. The 'Dog Fence' is the longest fence in the world, even longer than the Great Wall of China! Coober Pedy is approximately 530km from Beltana. We also pass red sand dunes that have been shaped by the wind.
Drive time – approximately 9 hours excluding stops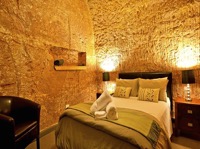 Day 4: (Overnight Coober Pedy)
In Coober Pedy, the 'Opal Capital of the World' there will be a chance to find and keep your very own opal(s). There is a public 'noodling patch' where tourists can try their luck at searching for opals; many have found themselves some very nice and profitable colour! It is safe to search for opals in this public area safe because there are no mineshafts to fall in!!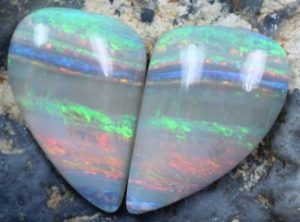 There will also be an opportunity to explore an opal mine, a fantastic underground museum (with a cinema), underground hotels, shops and other underground facilities… and a chance to purchase famous Coober Pedy opals.  Before the discovery of 'colour' in Coober Pedy, opals were one of the rarest and most precious stones on the face of the planet, not only does Coober Pedy abound with plenty of opal, but also the finest and purest in the world! In Coober Pedy we stay underground, for most of you, it will be your first time to ever sleep in an underground hotel.
Day 5: (Overnight Wilkatana Station)
Wilkatana is a full working sheep station about 40kms north of Port Augusta. We will only be staying for one night. Just chill out for the rest of the day after a long drive day enjoying an amazing outback sunset over the Flinders Ranges. while sipping on a chilled white wine anticipating that mouth watering home cooked station dinner or perhaps check out some of the local wildlife or explore some of the property, Wilkatana even have their own salt lake!
Drive time – approximately 6 hours excluding stops.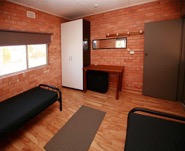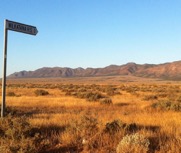 Day 6: (Overnight Mundoo Island)
Today is our last big drive day. From Port Augusta we will drive through the centre of South Australia's capital, Adelaide before arriving at one of Australia's premier and most beautiful wine growing regions, McLaren Vale. Here we will have the opportunity to taste the very palatable wines from Gemtree Winery.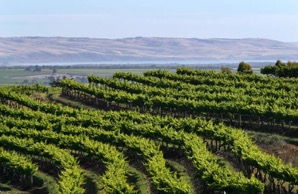 McLaren Vale is also the gateway to the very picturesque Fleurieu Peninsula where the beautiful Mundoo Island is located and where we spend our final two nights of this fantastic itinerary on a cattle and sheep station.
Drive time – approximately 5.5 hours excluding stops.
Day 7: (Mundoo Island)
A great way to wind up an outback tour… on the beach! In the morning we will take a drive to the Murray Mouth, where Australia's largest river enters the ocean after it's 2500km journey, stroll on the beach and gaze south, there is nothing between you and the freezing Antarctica but ocean!
Go for a kayak on the protected waters of Holmes Creek adjacent Mundoo Island followed by a yummy traditional Aussie BBQ.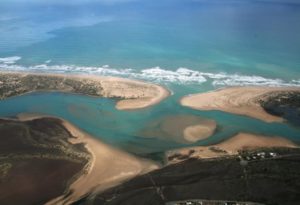 Take an afternoon tour of Mundoo Island Station – an Australian working cattle station that breed horses, cattle and sheep and is located in a nature wonderland. Marvel at the beautiful birdlife, wild horses and natural scenery.  During the summer months you can see the thousands of birds that migrate here from all over the world.  This is raw nature at it's best.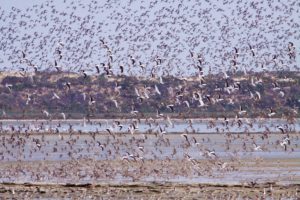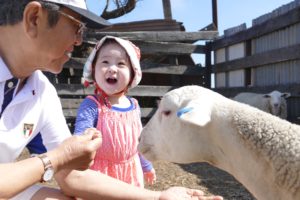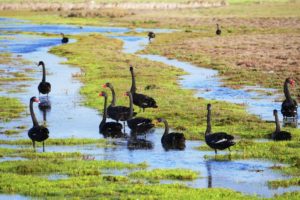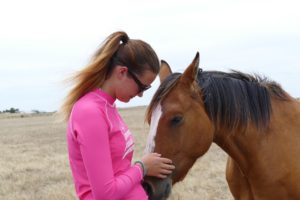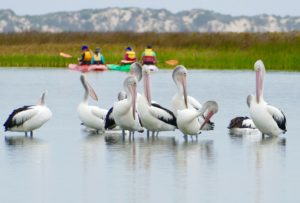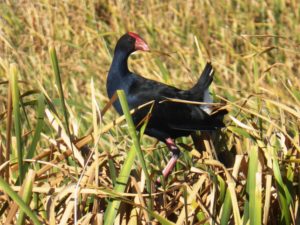 Day 8: Very early morning departure to the Adelaide Airport. End of itinerary.
Drive time- approximately 1.5 hours excluding stops.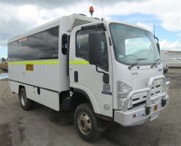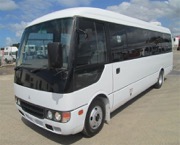 One of two types of vehicle will be used (not the actual vehicles pictured above); trailers will be towed behind the vehicles to carry the luggage
Inclusions:
3 main meals per day
Fruit on board the tour vehicle
All accommodation on a twin share basis
All listed activities
Drinking water
Head cap and fly net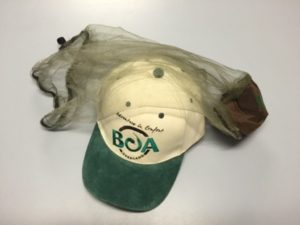 Not Included:
Hunting (option)
Laundry
Alcohol and soft drinks
Breakfast on the first day of the itinerary
Lunch and dinner on the final day of the itinerary
Internet connection or communications (there will be an opportunity at the beginning of the trip for those who wish to purchase a local sim card for their handheld devices)
International and domestic flights
Conditions:  Tours operate with a minimum of 8 guests and a maximum of 20; luggage is restricted to 18kg plus a small backpack per person. Due to nature of the places on the itinerary and for safety, staff reserves the right to make necessary changes due to weather, roads or other conditions.
Booking Terms – any cancellation will incur a 30% cancellation fee.  In case of a cancellation the following fees will apply: 14 – 7 days prior to departure 30% of tour cost; 7 days – 48 hours prior to departure 50% of tour cost; Within 48 hours, failure to board or departure during tour – No Refund. 
Guests MUST purchase travel insurance, guests must provide insurance details at the beginning of the tour. Credit card insurance will NOT be accepted.
Please note there will only be mobile/Internet reception while passing through towns, ALL night stops will have mobile reception except Wilkatana Station. There will be a satellite phone on board our vehicle; usual rates will apply.
Please note on the station stays, we utilise the best accommodation that is available. There are no five star hotels in the outback where we are travelling. 
Coober Pedy accommodation is subject to availability, groups may be required to be accommodated in separate hotels.